he Extension Service (ES) is the direct contact of the FNC with coffee growers. Its origins date back to 1928, with the publication of the first issue of the Coffee Magazine, aimed at coffee growers, and two years later with the first Coffee Practitioners.
The current extensionists (extension workers), because of the useful and practical technical assistance they provide, have become indispensable partners of producers in transforming coffee farming into a real, profitable and productive business.
This team is present in 603 coffee municipalities (over half of those in the country), undoubtedly a great coverage of service for producer families.
In line with Cenicafé's research and technology advances, the ES focuses its work on promotion of best agronomic practices that allow producers to improve income at farm level.
Using certified seed of varieties resistant to coffee rust, construction and maintenance of seedlings; timely planting with adequate densities; management of production cycles; renewal of coffee plantations; taking care of the vegetative growth (unproductive) stage; adequate fertilization; shade management; integrated pest and disease management; agricultural loans; good harvesting practices and wet processing; specialty coffee production; on-farm record keeping and business management are some of the many aspects of the extensionists' work to train the coffee-growing families of the country.
"The Extension Service is the soul and backbone of the work we do as coffee growers on our farms; it is the continued support and guidance we have to apply the latest technology. My parents were coffee growers, but we grew coffee in a traditional way; when the extension team arrived, it allowed us to make a big change and have a much safer and more viable farm."
visits to coffee growers made by the Extension Service up to September 2019
coffee hectares were renewed from January to November 2019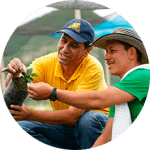 Individual methods
The Extension Service uses two individual extension methods: farm visits and attention at offices. The farm visit is important because it enables extensionists to fully immerse themselves, both agronomically and administratively, in the coffee business that is the farm.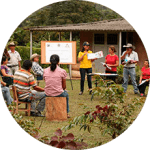 Group methods
With group methods, small and medium-sized producers from the same rural district ("vereda"), who meet to receive technical assistance, are served. These include meetings, method demonstrations, result demonstrations, tours, field days and competitions.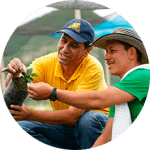 Mass methods
With these methods, supported by media such as radio, newspapers, infographics, videos, regional or national television, online media and cell phone communication, the extensionists educate, inform and motivate coffee growers about programs and campaigns.