In the economic dimension
we work with three lines of action
Guaranteeing producers the best base market price is one of the main public goods and services provided by the FNC, but helping them climb the value chain for obtaining a better price is essential, which we achieve through:
Positioning and differentiation of specialty coffee in market niches.

Development of mechanisms that help reduce negative price volatility.
We seek coffee farmers to grow the new varieties developed by Cenicafé and adopt the best agricultural practices through the "More agronomy, more productivity" strategy.
Production costs: Taking into account their effects on net income of coffee growers, we help them achieve an efficient farm management and we put new collection technologies at their service.
Logistic costs in marketing: In this way we can transfer a better price to coffee growers and increase competitiveness of Colombian coffee.
Meshes and shakers
To reduce labor costs in coffee collection, in 2018 the FNC launched the method of meshes on the ground, which increases the collected volume by between 23% and 45% (depending on experience). In addition, the design and release of the DSC-18 selective shaker allows collecting up to 50% more coffee than by the traditional container method. Both methods result in a lower cost per kg of cherry coffee collected.
Year when the meshes on the ground and DSC-18 shaker were launched
Increase in volume collected with meshes on the ground
More coffee is collected with the DSC-18 selective shake
"With the meshes, we can optimize collection; they can be used on any size of coffee plantation: large, medium or small, and with them we won't have coffee borer beetle problems, because we won't leave beans on the ground that become their food."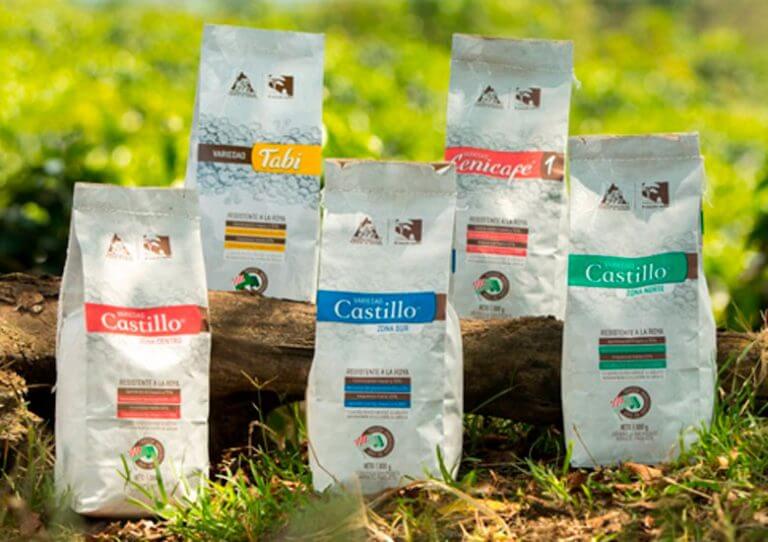 Castillo® varieties for Northern, Central and Southern zones
The development of varieties resistant to diseases such as rust or coffee berry disease (CBD) is one of Cenicafé's main contributions to Colombian coffee growing. The three zonal varieties (Northern, Central and Southern) are the most recent on a long list.
With resistant varieties, coffee growers in Colombia save over USD 200 million a year given the non-use of fungicides, spraying equipment and labor to apply them, which improves their profitability.
Colombia, Castillo® (7 regional and 3 zonal), Tabi and Cenicafé1 are the resistant varieties developed and released by Cenicafé.
Year when the Cenicafé Breeding Program began developing resistant varieties
Colombian coffee growers save annually by not using fungicides, spraying equipment and labor to apply them
"I plant the Castillo variety because my coffee plantations have developed very well, productivity has been good, and coffee has grown properly. In addition, with this variety, I have participated in two specialty coffee expos, and I have been a finalist with the coffee of my farm. That's why I feel happy with the Castillo variety."